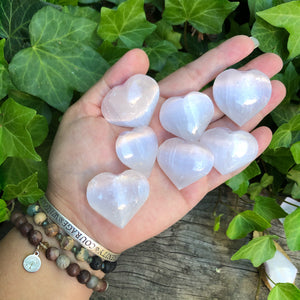 AromaGemJewelry
Selenite Heart (sold in lot of 1, 3, 5, 10
First Class U.S. shipping included. Save by buying in bulk. 
🍃🌿🍃Selenite🍃🌿🍃 🌙Affirmation: I am surrounded by positive energy and connected to Divine Light✨. (Share and spread the intention) 🍃🌿🍃Selenite gets its name from the Greek Goddess Serene, the Goddess of the Moon
🌘🌗🌖🌕🌓🌒. Place it near your front door to attract positive energy and experiences. Crown Chakra and Third Eye stone. I love to give these as gifts.
From Charms of Light:
♥ Serenity ♥ Purification ♥ Peace ♥ Meditation ♥ Universal consciousness ♥ Clarity of thought ♥ Purity of heart ♥ Universal love ♥ Integrity ♥ Spirituality ♥ Psychic development ♥ Forgiveness ♥ Positive thoughts
Selenite is a chrystalline variety of the mineral gypsum. It is a very soft mineral which can be easily scratched with a fingernail and therefore not recommended for jewellery. If placed in water, Selenite will revert to gypsum.
Chakras - Crown Chakra
Zodiac - Taurus
Typical colours - White, Grey, Green, Orange, Brown
---
Share this Product
---
More from this collection