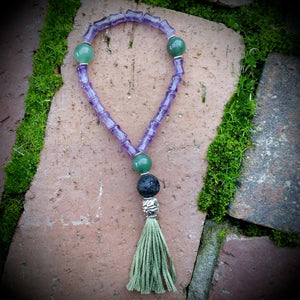 AromaGemJewelry
Essential oil diffuser bracelet-Amethyst
Mala gemstone diffuser bracelet created using eighteen amethyst tube beads, green aventurine marker beads and guru bead, black lava stone amulet, sage green tassel with antiqued silver accent bead. For use in meditation and prayer. Simply add 1-2 drops of your desired essential oil to the lava stone. Aroma lasts for several days. Black stretchy cord used for ease of wear.
Malas are traditionally used as an aid in meditation. They are often composed of 27 beads, 54, or 108 beads, not counting the spacers, markers, or guru beads. Other amounts in multiples of 9 can be used as well. Malas create a sense of tranquility, inner peace and focus. My wish when creating one is to enhance the spiritual pursuits of anyone who so desires. They are infused with love and creative energy and given out with positive intention.
This beautiful wrist mala also serves as a personal diffuser so that you may experience the healing benefits of essential oils. Simply apply a drop of your favorite essential oil to the black lava bead, and enjoy the long lasting aroma for days. Reapply as desired. I am a regular user of essential oils for the physical and emotional health and wellness of my entire family.
---
Share this Product
---
More from this collection