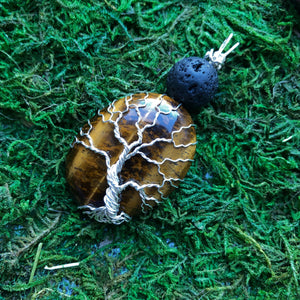 AromaGemJewelry
Essential oil diffuser necklace - handmade tree of life - agate
One of a kind sterling silver wire wrapped tree of life created around a stunning Tiger Eye cabachon.  Total pendant is 2 inches. Free ball chain or leather cord included with pendant . Stunningly beautiful, handmade, one of a kind gift. This piece took about two hours to create. It's wire wrapped with 23 individual pieces of copper wire. Pictured is a suggested pairing of red tiger eye carved leaf earrings. This purchase is for the pendant only. 
The Tree of Life symbol which adorns this necklace adds to the feeling of peace and serenity brought on by this piece. The necklace serves as a personal diffuser so that you may experience the healing benefits of essential oils. Simply apply a drop of your favorite essential oil to the black lava beads, and enjoy the long lasting aroma for days. Reapply as desired. I am a regular user of essential oils for the physical and emotional health and wellness of my entire family.
From Charms of Light: ♥ Protection ♥ Clear thinking ♥ Personal empowerment ♥ Integrity ♥ Willpower ♥ Practicality ♥ Grounding ♥ Power ♥ Courage ♥ Grace
Tiger Eye, also known as Tigers Eye, is a variety of Chalcedony.  Tiger Eye is an 18th Anniversary gemstone.
Chakras - Sacral Chakra, Solar Plexus Chakra
Zodiac - Capricorn
Planet – Sun
Element – Fire, Earth
Typical colours - golden-brown, blue, red
A stone of protection, Tiger Eye may also bring good luck to the wearer.  It has the power to focus the mind, promoting mental clarity, assisting us to resolve problems objectively and unclouded by emotions.  Particularly useful for healing psychosomatic illnesses, dispelling fear and anxiety.  Useful for recognising one's own needs in relation to the needs of others.  Balancing yin-yang and energising the emotional body, Tiger Eye stabilises mood swings, imbues us with willpower, purpose, courage and self-confidence, and releases tension.
---
Share this Product
---
More from this collection