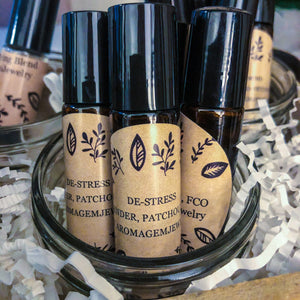 AromaGemJewelry
De-Stress Essential oil blend
First Class U.S. Shipping Included. 
🍃🌿🍃De-Stress🍃🌿🍃
🍃🌿Roller Ball Blend🌿🍃
This is the essential oil blend I use when I am feeling chaotic and anxious and need to settle myself down. Patchouli is a very earthy grounding oil, while Lavendar balances the aroma out and has a wonderful calming effect. This combo is my go to.
🍃🌿🍃I use only the highest grade essential oils combined with an organic fractionated coconut oil as a carrier oil.
---
Share this Product
---
More from this collection